| | | |
| --- | --- | --- |
| | A Visit to the Future: "Beirut 2005"! | |
"We Want to Know the Truth! ...We Want Our Freedom, Independence, and Above All Peace, Prosperity, and Dignity"; my Lebanese friends, Michel and Wafa said
In support to my Lebanese friends and all peace loving people inside and outside Lebanon I joined thousands of Lebanese citizens at the site of the tragic event that resulted in the death of previous Lebanese Prime Minister, Rafeeq Al-Hariri, and 18 more lives and over 100 injuries, on Monday, Feb. 14, 2005, which was Valentine's day.
Below are some photos, taken at "Martyr" Square, "Sahat Al-Shuhadaá", in downtown Beirut where I met my friends...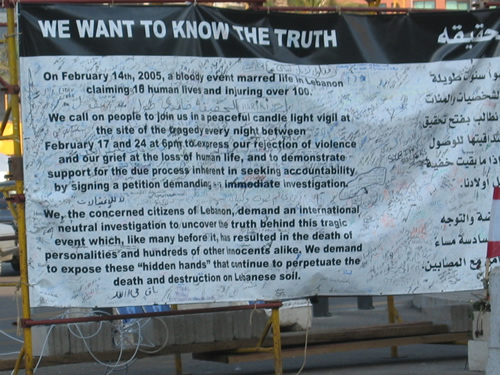 | | |
| --- | --- |
| | |
| Al-Hariri's grave covered with flowers and surrounded with candles | This is me, Buthaina, sitting near the grave, between a Lebanese Moslem woman and a Lebanese Christian man who were also visiting the tomb of Al-Hariri... |
---
| | |
| --- | --- |
| | |
| The other innocent victims who died with Al-Hariri! | Behind me is the famous status of "Martyr" where the word "Truth", written in Arabic, shown on the white banner at the bottom |
---
| | |
| --- | --- |
| | |
| The exact location where the massive explosion took place near St. George Hotel that is famous for its location on the sea with the best beach in Beirut. It is a main landmark in the heart of Beirut. | A closer shot of the St. George Hotel, which was under construction due to damages following the past long War in Lebanon and was almost ready to receive tourists this summer! |
---
| | |
| --- | --- |
| | |
| Hotel Phoenicia was also damaged and needs at least three months to be reopened to receive tourists and other visitors to the country. This Hotel is one of the main landmarks in the capital city of Beirut where important International and Regional conferences and meetings are usually held. It is also considered a main resource for the Lebanese national income. | Another important building that was also being renovated. |
---
A banner calling for immediate Syrian withdrawal from Lebanon near a camp where university students gathered day and night and will continue doing so until
the Lebanese peaceful dream is reached!