TESOL 2003
Webheads Participate Physically and Virtually in TESOL Convention 2003, in Baltimore, Maryland, USA
Wednesday, March 26, 14:30 - 16:30 GMT (5:30 - 7:30 pm KLT)
Webheads Used Some Great CMC Tools:
(2) www.TappedIn.org
(3 )Yahoo Messenger
to Present Live and Webcast from
Portugal, Spain, Kuwait, and Australia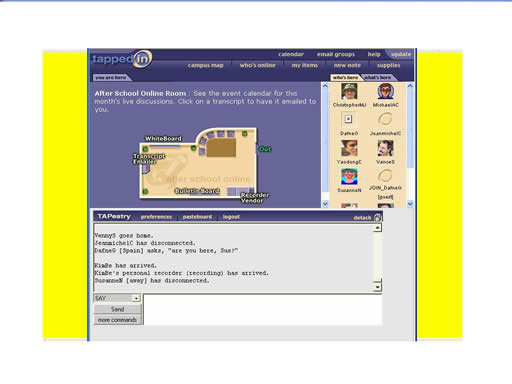 ScShot (1)

shows Tapped In's ASO (After School Online) page. You can view some presenters' pictures and symbols on the right side, and the chat box at the bottom where online participants in Spain, Portugal, Australia, and Kuwait,

projected their presentations

, using ppt.files and web pages.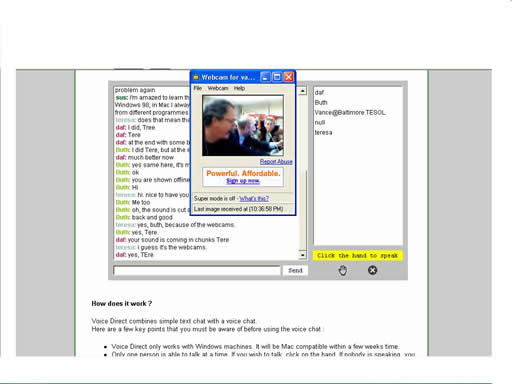 ScShot (2) shows Vance, Webheads CoP / Group leader, who orgainzed, coordinated, and managed a successful presentation at TESOL 2003. He was a great role model, showing us how a huge job or event like this one can be organized and presented successfully,by means of simple step by step cooperative and collaborative team work. It was a great and unforgetable experience that taught me a great deal about online presentation, group work, and technology. Thank you Vance :-)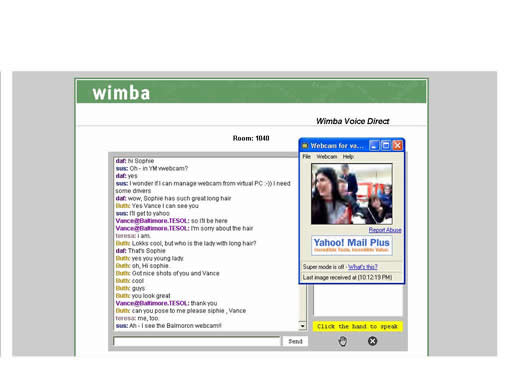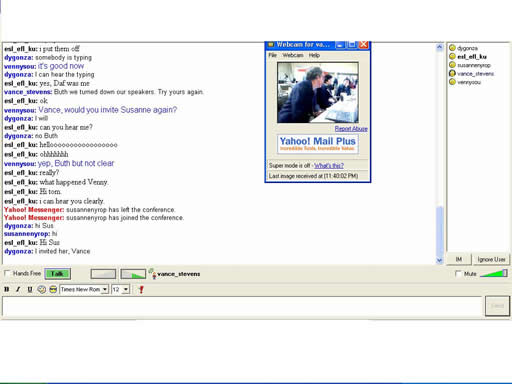 ScShot (4) shows Vance when he invited us, later, to a voice-video-conference at Yahoo Messenger, where we continued telling and showing the audience, physically available at TESOL convention 2003 with Vance,Chris, Aiden,and Arlyn,what we do in general at our Webheads' CoP.Many have joined Webheads' CoP during that day.
Page created on March 29, 2003

Completed on July 12, 2003 (Our motto: "Better late than never!")