Webheads in Action, Mike Marzio & Buthaina Al Othman,
Meet Face-to-Face in the Big Apple!
August 16 & 23, 2004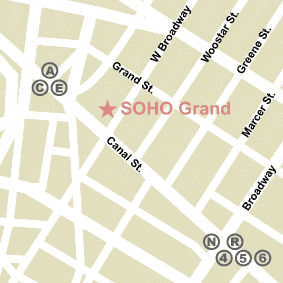 The red star on the map indicates the place where we first met, on Aug 16, when Mike and Valerie, walked 50 blocks to meet face-to-face with Buthaina, at W.Broadway, in Soho!
(From right to left) Valerie, Mike's wife, who is a judge and a great company to be with, the

Mike Marzio

, who is a Webhead in Action and one of the co-moderators at Webheads' sister group,

Real English Online

, (REO), and

Buthaina

, a Webhead in action, all having F.U.N, chatting in English and French, while enjoying Italian food, on Spring and W. Broadway, on Aug 16, 2004.

Mr. and Mrs Marzio, great people, really happy that we met in person, (said Buthaina).

On Aug 23, we met again, in the Village, when Buthaina's daughter, Muthla, (the first one from the right), left work early to join us for dinner.(From right to left), Muthla, Buthaina, Mike, and Valeire.

(From left to right), Muthla, who wroks and lives in the Big Apple, Valerie, and Mike, enjoying their dinner, on Bleeker and Mac Dugal, in the Village.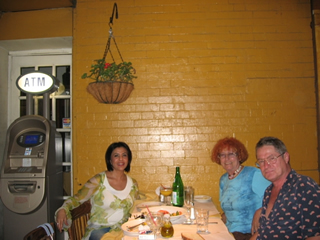 Buthaina, Valerie, and Mike, who is going to launch his well done, authentic, Video lessons' site,
Real English-ESL for Everyone
, very soon. Users of his site will enjoy unique video clips and movies, outcome of his hard work for the past 12 years. Congratulations, Mike!