Michael Coghlan, one of the experts in Webheads online community, is a keynote speaker at the 9th national conference on the Community Languages and ESOL. He is a.k.a. the "Voice" or the "Voice Guru", as I call him, :-)

Michael has invited Webheads in action from all over the world, to his MVW/shop (Multiple Venue Workshop) to share with his remote participants, and local participants in Christchurch, New Zealand, some of their knowledge and experiences, learned through Webheads' CoP on ways they utilized some synchronous & asynchronous voice online technologies, for the use of EFL/ESL students and teachers.
The following screenshots were taken, during the workshop to show and tell where and how Michael took his local and online audience, including Webheads and the things they did and the F.U.N they all had, together!

First: Michael invited all of us to meet with him and the w/shop participants at Tapped In,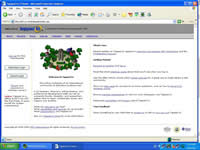 , which is
Webheads' virtual hang out place, every Saturday & Sunday.
Here is a ScreenShot of the Chat Room at Tapped In Reception, where we all text chatted, and listened to the help desk lady there, our Webhead colleague, BJ Berquist , explaining how the text-chat facility and other "things" work at Tapped In:
Check out the left of the chat window to see the names of people attending this event! (It's amaizing and seems like a virtual big party, doesn't it?)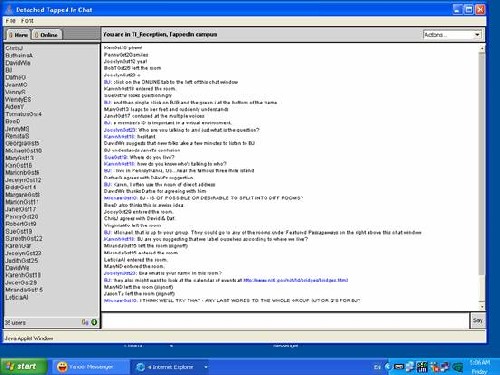 "From there", Michael took us to Yahoo! Messenger,
, where he invited us all to a voiceConference to show his audience how this free, text-voice-video supported, computer mediated communication, (CMC) tool can be utilized and integrated in ESL/EFL online or blended courses for faster e-communication with students outside the virtual or face-to-face classroom or for using it in web-projects, for studnets.
Here is a ScreenShot of Michael's voiceConference Room, where you can see names of all involved parties in the event, listed on the right side of the voiceconference chat window!
(Notice how Michael, smoothly and skillfuly, managed to organize and move us from Tapped In to Yahoo! Messenger; unbelievable, just like a skillful cat herder!), :-)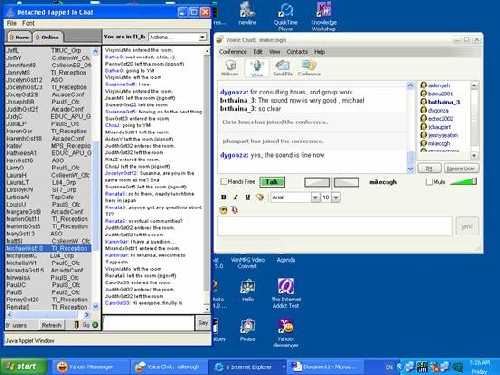 Moreover, Michael invited present Webheads to talk to the audiene about ways they used Yahoo! Messenger in text or voice chat projects with their EFL/ESL students.
The two ScreenShots, below show two EFL Webheads in action, from Taiwan and Kuwait, talking and sharing their experiences, on ways they created collaborative projects, for their EFL students, using Yahoo! Messenger:

After that : Michael and his w/shop local and virtual participants went to check out and play a little with the Wimba Voice Boards/Voice Email, where some Webheads posted messages, in response to a question, posted there, earlier by Webhead Michael, on how could ESL/EFL teachers utilize the Wimba voice technology for the use of their EFL/ESL students?
Here is a ScreenShot that should tell you what happened there:
Notice Michael's Welcome message, higlighted, on the ScreenShot, below, and check out the number of messages, posted by the w/shop participants and Webheads, on this Wimba Board! (Amazing, isn't it?), :-)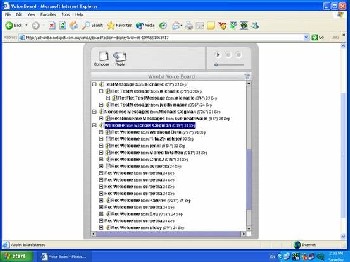 Meanwhile, some Webheads started playing a little with their webcams, when the following ScreenShot, was taken: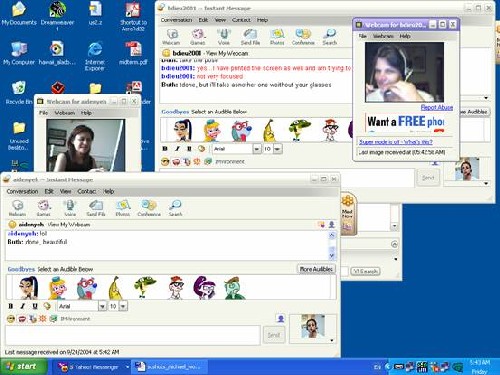 (Left to right) Webheads, Aiden, Buth, (at her Y! Messenger chat window in the middle, taking Screen shots), and Bee, our Blog expert, located in Brazil; she has joined Webheads after her participation in Becoming a Webhead!)

Later: Michael devided us all into two groups, as it was time for Alado.net; a more sophisticated technology, which supported text and voice, plus a facility to project PowerPoint or html files as WebPages!

One group that I joined went to the Adelaide Institute of TAFEs virtual classroom, while the other group went to the WEBHEAD'S Alado.net Portal, which was provided free of charge to Webheads' CoP, courtesy of Alado.net; thanks to our friend and Webhead colleague, Andy Pincon, in Chicago!, :-)
Here are two Screenshots just to show and tell few things, done at http://www.alado.net/ait, during the third hour of Michael's mvw/shop
The above Scshot showsthe 15 seat

AiT vclaaroom,

hosted by Alado Development in Chicago, and employs software called

iVocalize

This Scshot shows how

a webpage

is projected at the Webcast technology, by Alado

Finally: Michael, thought it was time to take us to his Virtual Office in LearningTimes.org, so we went, entered, and positioned ourselves in luxurious virtual seats and tried to make the most of the remaining 30 minutes of Michael's 3 hours mvw/shop, at Michael's vOffice, by Elluminate, a great collaborative technology, which supported text and voice, plus many other facilities, like sharing applications, such as PowerPoint files and all kind of image files that can be all shown on a Whiteboard, where you can also write, draw, and do various collaborative activities with your students or colleagues. To learn more about how Webheads were introduced to this technology, plesase click here!
Here are some ScreenShots to show you part of the activities we, did there!
(Writign and drawing of participants on the Whiteboard are shown on the first ScreenShot)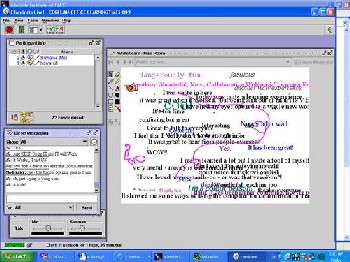 Michael's Keynote, titled: " Finding Your Voice on the Internet – changing the language, building
community, and reducing diversity?"
was delivered, on the Internet, using the virtual Meeting Room of LearningTimes.org, by Elluminate, on Saturday, Sep 25th, where
Webheads' founder and coordinator, Vance Stevens, , and a colleague from Canada, Dr. Colleen Kawalilak, were there, with Michael!
The ScreenShots below, were taken on Sep 24th, when we, Webheads, Sus, Wendy, and Buth, stayed to play a little at Michael's vOffice at LTs.org, after his 3-hour MVW/shop was completed!
(Left to right) Vance Stevens and Michael Coghlan! (A question for Webheads: Could you guess where were Vance and Michael as they appear in the screenshots, above?)